Let's Go To Indonesia!
Let's Go To Indonesia!
Traveling is great when you have the time and money, but where to go? I recommend EVERYWHERE!! For now, we will take a look into Indonesia. This is an amazing place to travel if you want to experience something new and exciting! Indonesia is beautiful, filled with beaches and landscape for days. The city of Jakarta is lively and filled with places to shop and eat. Let's look at where we should go if visiting the country of Indonesia.
How To Act When Visiting.
When visiting Indonesia it is important to respect the culture and lifestyle of the Indonesian people. The religion and culture is Muslim for most of Jakarta. When you decide to travel to Bali like most tourist then you can expect the religion to be more Hindu. When you are going out it is respectful to learn some basic language.
For example:
Terima Kasih = Thank You
Sama Sama = You're Welcome
Tolong = Please
Maaf = Sorry
Permisi = Excuse Me
Mbak = Miss.
Pak = Mr.
Mas = Brother
Ibu = Mother / Maam
Hati Hati = Be careful
Bule = Foreigner / American
These are a few words to help you along your way while visiting Jakarta or Indonesia in general. Also, when learning theses words it is important to know what the formal word is and the non-formal word. Having a pocket dictionary of the most common phrases and words helps a lot. I use " Instant Indonesian" by TUTTLE BOOKS or "Indonesian Pocket Dictionary" by PERIPLUS.
What's To Eat!?
When visiting a new place its always exciting to try the food. I love Nasi Uduk Ayam Goreng which is rice cooked with coconut milk and fried chicken. Another Famous dish here is Bakso which is meatballs in a broth. There are so many places to eat here it is overwhelming. I also must say if you are not one for SPICY food becareful what you order. If, Spicy food is not your thing you can always say Tidak Pedas which means NO SPICY.
One of the best experiences I had is going to eat Rendang!! its amazing!!
This is me at an all you can eat at a Padang restaurant. You sit down at the table and there is no need to order, because they bring everything to the table and you eat what you want. Once you have had your fill you simply call over the waiter and he totals everything you ate and that's what you pay for. There is so much amazing food in Indonesia for you to try that it can be overwhelming.
Another MUST TRY is Durian! "The king of fruits" now this particular fruit gets a lot of bad publicity mostly because of its smell. Durian's taste is very unusual too, and that is what people complain about the most. The smell is somewhere between onions and garlic with a touch of melon. Durian's taste is similar to a custard with the same taste as the smell, but sweeter. I for one like it, but I know most people do not. The reason it is called the KING OF FRUITS is because of the spikes on the outer Rhine, so it represents a crown.
Durian can be found pretty much all over South East Asia, famously known to be from Thailand. You can also buy it frozen, but I recommend you find the fresh fruit and try it that way. Durian is not cheap, it cost around $ 30 or more! usually more, it is considered a treat or for a special occasion.
 TERAS KOERING!!!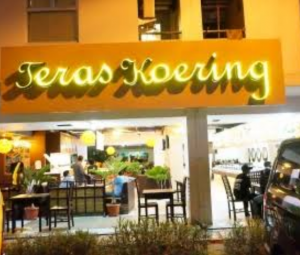 This is a wonderful restaurant located in Kalibata City in Jakarta, with plenty of space and it's open 24hrs!! Late night hunger got ya!? Check this place out! It is great! I guarantee it! The staff is very friendly and I had the privilege of meeting the owner, Mr. Aham Mesri who is a wonderful host. I enjoyed an Iced lemon Tea while my friends went for the Green Tea Latte and a Sparkling Strawberry beverage. The sparkling Strawberry water is mineral water with real strawberry mixed in. There are many creative and unique coffee drinks to try and "Mock-Tails" that is a NON- alcoholic drink. Teras Koering also has some of the best coffee in Indonesia! & if you love coffee you must try their specialty coffee drinks made from local coffee beans and traditional blends.
The seating for the restaurant will accommodate up to about 240 people if you really want to pack them in otherwise you can fit 160 very comfortably. When relaxing with your coffee you may want to indulge in some "Shisha" in the states is called Hookah which is offered here as well. The food is great and they stick to the staples of Indonesia, but also offer some of the comforts of the Western World like their Hamburger! Or T-Bone Steak!
Please come and check out Teras Koering! for some of the BEST food, coffee, service & atmosphere Indonesia has to offer!! I love it here and I know you will too!
Teras Koering Map Click HERE FOR DIRECTIONS
What Should You Expect When You Arrive In Indonesia & What's To See?
Once you arrive in Indonesia you will be confronted by every taxi driver at the airport asking you for a lift. I recommend BLUE BIRD TAXI or if you want to download the GOJEK app then you can order a car. There is no longer UBER, but it was not used as much here in Jakarta and was difficult to get a driver. UBER has now merged with GRAB and now its more convenient. Another app I recommend downloading is WAYZ which is a great GPS locator which makes sure the driver is going the right way or not trying to take you through the scenic route." OVER CHARGE YOU"
Once you are settled and ready to go out and look around, I highly recommend going to TAMAN MINI = translate's to mini park and showcases everything Indonesia has to offer. This is a great place to see the many different Indonesian provinces and learn about the culture. There are rides and food just like any other theme park, kinda like EPCOT center in Orlando, FL. I also recommend going to one of the many Mosques here in JAKRTA especially the GOLDEN DOME. It is absolutely beautiful.
There are few things to be mindful for, one thing is JAKARTA is not the same as BALI. There are many differences to take into consideration when traveling to Indonesia. The Island of Bali is most all Hindu and the rest of Indonesia is Mostly Muslim. Is there Christians and Catholics there too? Yes there are, but not as common. While in Indonesia it is important to know that JAKARTA is not as friendly to Alcohol or rude behavior, but Bali actually has a party boat called " Drunken Monkeyz" so they are more friendly to that type of activity.
Are The Locals Friendly?
Absolutely!! the locals in Jakarta are fascinated by Americans and other foreigners, but in Bali it is kind of the norm there. Usually when a local from Jakarta sees a foreigner they often wonder why we are not in Bali, or will ask if you have visited Bali. For some reason it is just common to assume tourist are there for Bali, but not always the case. When you travel to The city in Jakarta or Bandung or Bogor you will not be stared at as much as if you went to Depok or Ancol.
A few things you will definitely hear is " MISTER" and "BULE" this is just common for the locals to get your attention. The Bule word is usually in whispers to each other or under their breath. "Mister, Mister" is heard as soon as you land and get approached by the taxi workers. Do not expect too much conversation from the locals unless they speak English or you Bahasa Indonesia. If not then it is usually a silent ride to wherever you are going. Or when you order food you will usually have to point to what you want rather that say it.
Another thing I would like to mention is the custom of using your right hand to eat or pass money, I will leave the reason up to you imagination. Also, if you are not Muslim and are not familiar with the sound of Azan, then you will hear the call to prayer 5 times a day and a 6th pre- Azan before Subuh which is usually around 3:30am. When you are a light sleeper and do not participate in the prayer then I recommend you getting some ear plugs for the early morning prayer. Just so you known it can be very loud, especially if your hotel or place of stay is close to a mosque.
Conclusion
So At the end of the day would you like to travel to Indonesia?? Are you now having second doubts? Let me tell you, you should check it out! The culture is amazing the people are amazing and the food is amazing! There are a few things you really should known about the amenities in Indonesia. When you are not staying at a Modern Hotel you might not have HOT water for your showers. Another thing to remember is the water is NOT drinkable, you CANNOT DRINK THE WATER… Very important to be known unless you want to spend the rest of your vacation on the toilet. Also makes sure you buy Toilet paper because most places will not have it in their bathrooms. They use a Bidet to wash and clean after using the restrooms. NOT ALL BUT MOST.
Another thing to remember is the fact that it is HOT in Indonesia!! NOT just HOT but really, really HOT! I advise sunscreen!! And drink plenty of bottle water. DO NOT BUY bottle water from the kids in the street, it might be tap water with the cap glued back on and you will get sick, trust me! Be careful, what you eat and remember there is NO PORK on the MENU in Indonesia unless you buy it from the grocery store or you are in a more foreigner populated area.
Do I recommend visiting Indonesia? YES!!
Do I recommend using common sense and good judgment when visiting? YES
Do I recommend trying the food? YES
Do I recommend getting your shots updated? YES / specifically for ASIA
This information is for you to have a better understanding of Indonesia and the more popular locations, and its rules and culture. I hope this information helps you on You're vacation or travels through Indonesia. Are you are a traveler who is looking to start a travel blog or learn how to make extra money then Click here to learn how to do both!
Good luck and safe travels.
Aaron. G