Who Is Eric Ellis Jr (Wolves Academy Review)
Who Is Eric Ellis Jr (Wolves Academy Review)
Who is Eric Ellis Jr.?
Eric is an online entrepreneur Affiliate Marketer who is growing popularity on YouTube. His subscriber count is not that impressive at only 27K at the time of writing this, but hey who the hell am I ? right? I have no where near that amount, but I just started. Eric has been uploading videos for a few years now and promoting his (Wolves Academy) So who is Eric Ellis Jr. and is he really making the money he claims to make on his YouTube videos?
The Man The Myth The Legend
Well, I tried to find a Wikipedia page to see where he is from, but no luck. I think he is from Florida, and he is in his 20s, but I could be wrong. What I do know about him is he is carving out a spot in the world of online marketing especially through Affiliate Marketing. With his image of larger than life lifestyle and showcasing beautiful women, cars, and money while jet setting off to travel the world.
He has a few websites and promotes his coaching through webinars and marketing programs. One of his programs is Wolves Academy. The question we want to know is….is any of it real?
Is he actually making the money he claims? does his program really work and will it work for you? This is what you probably want to know? right?
Lets take a look into his programs, what he offers and how he teaches you to "steal his method of escaping the corporate life".
What Does Eric Teach?
From I have found by watching his videos and checking out his websites is he teaches you how to sell products through Clickbank using a sales funnel through Click Funnels. He shows you how to gain traffic through FaceBook Ads and also talks about gaining free traffic through various methods.
So it seems he goes through the basics of Affiliate Marketing and explains this through his blog:

The best traffic method for Affiliate Marketing
How to create a Facebook for Affiliate Marketing fast
How to create sales funnels for Affiliate Marketing
How to do Affiliate Marketing without a website
Click Funnels Review – Should you even buy this sales funnel software?
AWebber Review – Should you even invest in this email responder?
Those are his blogs on his website
https://www.wolvesacademy.com/blog/
Checkout his blog site if you would like to read his blogs. Now what does he offer in his coaching program?
He offers 3 secrets to his "Easiest and quickest way to quit the job you hate"
Secret #1 THE EASIEST ONLINE BUSINESS MODEL FOR BEGINNERS How to make money online without having to create your own product, store inventory, have a physical location or deal with customer service! (In other words Affiliate Marketing)
Secret #2 THE BEST VEHICLE TO ESCAPE CORPORATE SLAVERY Access to the education required to start a REAL online business; allowing you to escape corporate slavery, live anywhere and join the new rich! (He teaches you the same Affiliate Marketing he learned through trail and error mostly through what is taught through Clickbank University)
Secret #3 HOW TO EASILY EARN 4 FIGURE PAY DAYS AS A FRANCHISEE How you can earn up to $1,000 – $2,000 commission pay outs at 100% as an affiliate franchise owner! (He teaches you to create the same model he uses to coach others)
Lets checkout what Eric recommends for courses to learn what he knows and how he made his financial freedom. The first course he recommends is his own of course! The Wolves Academy.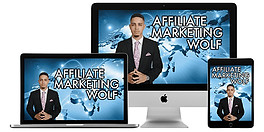 He then recommends a FaceBook advertising course which will teach you how to create the perfect Ad to convert your Ad into money. The course is called FaceBook Ad IQ Academy.
He goes on to recommend a sales funnel course through Russell Brunson which honestly could benefit you to learn. The course is called Funnel training with Russell Brunson's secret funnel strategy.
Then lastly he recommends a webinar course also offered through Russell Brunson. This course will teach you how to do Webinar marketing and will lay out the perfect script, setup and close which creates awesome conversions and its live on the Webinar. The course is called Webinars with Russell Brunson's perfect webinar course.
Eric offers a lot of information to help an Affiliate marketer not only create a great Ad with copy writing skills and well thought of sales funnel and the right Affiliate Marketing tools needed to close the deal. However, all of this is not exactly for the absolute beginner.
He says he will show you how to do all of this without a website, but he has a website and more than one too. I firmly believe a website is an integral part of any Affiliate Marketing business. There should always be a source of information and a way to build trust.
People will not just buy on the first time, what we call a lay down. Data shows that it could and usually takes 7 times before someone feels comfortable with you and makes a purchase. This means you need to also learn about email marketing. What Eric shows you is Direct sales through a landing page from Click Funnels straight to an offer page. It comes down to either they buy or bounce.
Why Should You Listen To Him? (Or Why You Shouldn't)
What I think is Eric offers a lot of useful information for someone who is already familiar with Affiliate Marketing. I believe if you are just getting into it, you might get confused. Making money online is not easy even tho all the "Gurus" say it is. It takes a lot of hard work and learning who things work and which methods do not work.
Why should you listen to him:
The information he offers comes from active successful individuals who have tested and re-tested their methods.
He knows a lot, Eric has been doing this for a little while now.
He is providing real strategy and his resources are genuine.
He has a lot of videos you can watch on YouTube to get ideas.
Eric seems to have real knowledge of how Affiliate Marketing works.
Why you might not want to listen to him:
Eric is one of those "Gurus" that claims you're going to make thousands of dollars in a day and this can be dangerous to believe if you are new to Affiliate Marketing.
He makes it sound too easy.
There is an almost arrogance feel about him that is off-putting, but don't get me wrong confidence is a good thing too.(It means he just might know what he is talking about)
His courses are NOT cheap, and this can be intimidating for beginners.
Now, this segment about why you may or may not want to follow his course is partly my opinion and part experience. I say this because I am a follower of his and I like his content, but if I was just starting out I would probably get lost in the magic of making money (or lack of it) and get discouraged.
However, I have been doing this for a little while now and I know what he is talking about when he explains his methods to make $1,000 a day. I also know it isn't as simple as he makes it sound.
Is Eric Ellis Jr. Legit (Or A SCAM)
I honestly believe he is %100 Legit.
I feel he brings valuable information to the table and he knows what he is talking about. In addition to his knowledge he is organized and well-spoken. I do feel as tho some of what he says or "Click Bait" titles can be a bit misleading, e.g. He says you can "make $1,000 a day using this Clickbank method". While this can be true, to a novice who is just starting out and doesn't have a clue where to begin I feel it not possible.
You would need a sales funnel, Email response, know about copy writing, and know which products or services will sell the best in its niche. The Affiliate tools will become expensive in addition to what Eric will charge for his course. And we're not even talking about how much you would need to spend on Ads. This is for Direct sales through a Funnel with no website of course.
Now I think having a website is beneficial to someone who is starting out because it can allow you to become an authority within your niche and build trust while getting organic traffic (Free traffic) to your website. Let me explain why my alternative to Wolves Academy is my number 1 choice.
My number one (Alternative to Wolves Academy)
The service I recommend to get the best online training for beginners in Affiliate Marketing is Wealthy Affiliate. The reason I recommend this learning program is because if you are new to Affiliate Marketing you should want to learn the basics from ground up.
This is a completely transparent learning platform filled with everything you would learn through Eric's Wolves Academy, but backed by a community of 1.4 million members who are there to network with you and help you reach your goals. The owners Kyle and Carson are also available to help you through your journey.
You can read my complete review by >>>>>Clicking Here<<<<<
There a ton of benefits that come with joining the learning program like getting 2 free websites for you to customize. I know what you're thinking "But, if I am new to this how am I going to build a website" Well, they offer step-by-step video training to get your website up and running to be profit ready.
This is a true earn while you learn program because you can market the program through an Affiliate link while you are going through the training.
Another thing I want to mention is that the learning program is completely FREE to join and receive your 2 free websites. You do not need to purchase anything or become a premium member to get your websites.
There is a premium membership available for $49 a month with an annul membership available at half the cost for furthering your Affiliate education.It comes with many perks which I mention in my review. Live training is available every week through live webinars and websites are built through WordPress with free themes to choose.
Checkout this graph to give you an idea of how much you can make through Wealthy Affiliate's program referrals.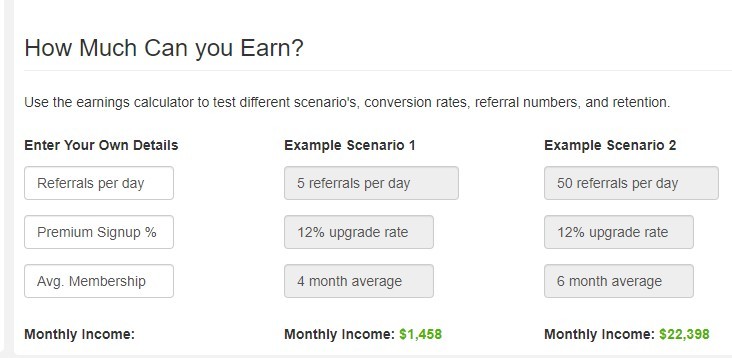 This is just an example of earnings if you were to promote and sell the program which is part of the Affiliate program. You can promote the program as a free member too making it once again a true earn while you learn program.
If you would like to try it for free right now click on the banner below. If you decide to become a premium member you will get your first month for only $19 through the link in the banner.
Thank you for reading and if you have any questions or comments please leave them below in the comment section.
All the best and much success!
Aaron G.